Final Friday - "Hot and Cool" Exhibition Reception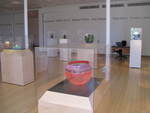 Join us for the first of five Final Fridays events. This reception will ease us into the seasonal transition from summer to fall with the exhibition Hot and Cool: Contemporary Glass Sculpture. Join University Museums for an evening of great conversation, great friends and great art. Even if it's cool outside, the artwork is always hot! Light refreshments provided and a cash bar will be available.
---
Join us for Final Fridays receptions and events held the last Friday of September, October, January, February and March. All events will take place from 5:30 to 7:30 pm. The location will vary from month to month, so check back on our website www.museums.iastate.edu for more information on future events. Final Fridays are free to University Museums members, a fee of $5 will be charged to non-members.