Dr. Martin Luther King Jr. Legacy Convocation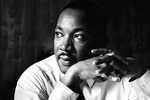 Celebrate the legacy of Dr. Martin Luther King Jr. and learn how his principles are still relevant today. Iowa State alumnus Arnold Woods III of Des Moines will serve as the keynote speaker. The program will include music by The People and the presentation of the Advancing One Community Awards. A reception will follow.
---
Other events featured in the 2013 Martin Luther King Jr. Holiday Series include:

Monday, January 21 - 6 pm - Ames Middle School, 3915 Mortensen Road, Ames
Community Birthday Celebration
Celebrate with song, story and birthday cake. An Ames tradition!

Thursday, January 31 - 8 pm - Great Hall, Memorial Union
Race, Racism and Race Relations in America - Michael Eric Dyson
Michael Eric Dyson is one of our nation's most influential black scholars, cultural critics and public intellectuals. He is University Professor of Sociology at Georgetown University and the author of sixteen books, including April 4, 1968: Martin Luther King, Jr.'s Death and How It Changed America.