Staniforth Memorial Lecture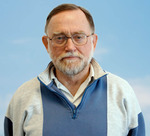 "Weeds, Crops and Health," Frank Forcella, research agronomist, USDA-ARS, Morris, Minn. A reception will follow in the Agronomy Hall commons. This is the 24th Annual David W. Staniforth Memorial Lecture.
---
Dr. Frank Forcella is a Research Agronomist with the USDA-ARS, North Central Soil Conservation Research Laboratory located at Morris, Minnesota and an Adjunct Professor in the Agronomy and Plant Genetics Department at the University of Minnesota and the Plant Science Department at South Dakota State University.

Forcella's research involves ecology, modeling, and management of weeds in crops. His research integrates experimentally-generated response functions of weeds to burial, water stress, and temperature with simulated soil water potentials and soil temperatures throughout the upper soil profile, as well as simulated tillage-induced seed burial depths. These biological models are incorporated with agronomic and management variables such as planting, herbicide types, rates and spray dates, to develop integrated management systems. Dr. Forcella also researches alternative crops, particularly specialized oilseeds. This project examines agronomic limitations to productivity of new crops such as calendula, cuphea, and echium. A recent project of Dr. Forcella studies ecosystem services provided by a diverse array of adapted oilseed crops in terms of food resources for, and health of, pollinating insects, especially honey bees.

Dr. Forcella has authored or co-authored 30 peer-reviewed papers in highly respected journals in the past 5 years. He currently serves as a Subject Editor for Weed Research and was a past Associate Editor for Weed Science. Dr. Forcella has received numerous professional awards including the Outstanding Paper in Weed Technology, Outstanding Paper in Weed Science, and the Weed Science Society of America (WSSA) Research Award. He was recognized by the North Central Weed Science Society with the Distinguished Achievement Award and the Agronomy Society of America (ASA) and WSSA with the Fellow Award.