Retirement reception: John Verkade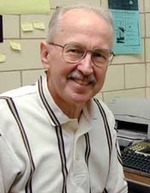 John Verkade, University Professor in chemistry, is retiring after 53 years of research and teaching.
---
John G. Verkade, Professor and University Professor, received the B.S. with high honors from the University of Illinois in 1956, the A.M. from Harvard in 1957, and the Ph.D. from the University of Illinois in 1960. He then joined the faculty at Iowa State University. In 1966 he was awarded an Alfred P. Sloan Fellowship, and in 1986 he was the recipient of the Mosher Award for research, teaching and professional service sponsored by the Santa Clara Valley, California, Section of the ACS. In 1994 he and one of his graduate students were national winners of the BF Goodrich Collegiate Team Inventors Award for work on their patented superbase catalysts which are still commercially available from Aldrich and Strem. In 1995 he won the Iowa State University LAS College Award for Excellence in Research. He has served as chairman of the Editorial Board of Chemical and Engineering News, and as an associate editor of Phosphorus, Sulfur and Silicon. He won the Iowa State University-wide Award for Outstanding Achievement in Research in 2008, an R&D 100 Award in 2009 (shared with Professor Hans van Leeuwen of the ISU Environmental and Biological Engineering Department) and the Midwest Regional ACS Award in 2010. In 2010 he was also elected Fellow of the American Chemical Society and Fellow of the American Association for the Advancement of Science. He has served the ACS in many capacities, for which, in 1984, he was awarded the ACS Council Award for outstanding service. From 1987 to 1994, he was an elected member of the ACS Board of Directors.