Concert: Lenny Cooper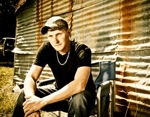 Lenny Cooper's fans are often the hillbilly mud-bogging crowd, who like their country mixed in with some urban beats and a little bit of rap. A self-described accidental artist, Cooper wrote the song "Mud Digger," about his favorite pastime, when he was 17 and posted a video of it on YouTube. The song began to rack up views, and attracted the notice of Colt Ford, who signed Cooper to his Average Joe's label.
---
Purchase tickets in person at the M-Shop Box Office or over the phone at 515-294-8349 (M-F 11am-5pm). A $1 service fee will be added to all telephone orders. Tickets are also available online via MidwesTIX. A 3% service fee added to all online orders. All tickets are subject to an additional $2 MidwesTIX fee and most tickets increase $2 on the day of the show. A unique ISU student ID is required at the door for each student ticket used.
Further ticket information available here.