Concert: Steve Poltz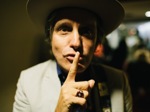 Steve Poltz fronted the semi-legendary indie-rock band The Rugburns and is responsible for a critically lauded and impressively large body of work on his own, most recently the soundtrack for the acclaimed Sundance-screened documentary film, Running Wild - The Life of Dayton O. Hyde. He is quite possibly the most talented, and engaging, solo performer on this planet. That's what 250+ shows a year on three continents will do for you.
---
Purchase tickets in person at the M-Shop Box Office or over the phone at 515-294-8349 (M-F 11am-5pm). A $1 service fee will be added to all telephone orders. Tickets are also available online via MidwesTIX. A 3% service fee added to all online orders. All tickets are subject to an additional $2 MidwesTIX fee and most tickets increase $2 on the day of the show. A unique ISU student ID is required at the door for each student ticket used.
Further ticket information available here.