"Create Peace" Buttons for 11 Days of Global Unity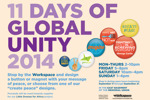 Stop by The Workspace and design a button or magnet with your message of peace, or choose from one of our "create peace" designs. Buttons and magnets are 50 cents each and proceeds will be used toward supplies for our Little Dresses for Africa project.
---
11 Days of Global Unity is a program that launched in 2004 as a promotion of peace, justice and environmental sustainability. It seeks to inspire, inform and involve humanity in helping to create a world that works for all.
Stop in during open hours beginning September 11 through September 21 (the International World Day of Peace).