POSTPONED to MAR. 4: Teaching and Learning Circle: Mindset: How we can Learn to Fulfill our Potential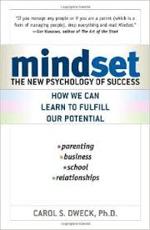 Is it possible to teach our students how to be resilient in the face of failure? Mindset: The new psychology of success by Carol Dweck (2006) reveals that we can learn to be more resilient and "learn to fulfill our potential" by moving from a fixed to a growth mindset. Join us as we discover how a growth mindset can improve our personal and professional lives.
---
Due to weather - this Teaching & Learning Circle will begin on Mar. 4. We will learn how to reframe our responses to help develop a growth mindset in our students as well.

== Attendees must be able to commit to all three dates to allow for the richest discussion circles to take place.
== Lunch is provided and limited to the first 14 advisers to register.

Primary audience: Academic and Faculty Advisers.

Registration required no later than February 20. Click here to register online.