Picture Frames Class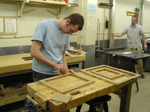 Learn the basic construction of a frame including how to make mitered corners and create rabbets to hold the artwork.
---
Start with traditional materials for your first frame then get creative using trim boards, barn boards or other interesting pieces in your second frame. Take the Mat Cutting Class on February 3 for the complete matting and framing experience.

Instructor: John Burright

Wednesdays beginning February 10, 6:30-9pm for 2 weeks.

ISU $30 ($20 tuition + $10 supply fee)
Public $40 ($30 tuition + $10 supply fee)

Please pre-register.