Woodshop Orientation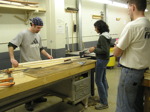 Learn the fundamentals of woodworking equipment while creating a bird house.
---
Leave class with knowledge of proper machinery usage, and, most importantly, woodshop safety. Students may purchase the birdhouse for $8 after class or we will donate it to the Iowa DNR Wildlife Diversity Program.

Instructor: John Burright

The orientation is required in order to use the woodshop on your own.

Monday, February 22 from 6-8pm.

ISU $10
Public $20

Please pre-register.