Drawing Animals Class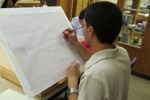 Explore techniques to capture realistic animals of all species.
---
We will discuss various techniques for lifelike facial features, fur, feathers, movement and natural environments in a variety of drawing media. Great for beginning and experienced artists alike.

Instructor: Molly Nagel

Tuesdays beginning March 22, 6-7:30pm for 5 weeks.

ISU $37 ($27 tuition + $10 supply fee)
Public $47 ($37 tuition + $10 supply fee)

Please pre-register.