Woodshop Class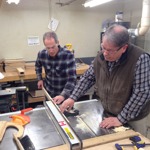 Take advantage of the expertise of our woods instructor and choose the project you want to complete.
---
Make an end table, small bookshelves, a hinged box for storage or another item that will meet your needs. Meet with John during the first class and figure out plans and the supplies you need to purchase for your project. Bring them to class during week 2 and start constructing.

Students must have taken a Woodshop Orientation (or have equivalent knowledge) to register. Project ideas need to be reasonable for the amount of time and space available for this class.

Instructor: John Burright

Planning meeting Tuesday, March 22 from 6-7:30pm.
Class meets Tuesdays beginning March 29, 6-9pm for 4 weeks.

ISU $55 ($50 tuition + $5 supply fee)
Public $65 ($60 tuition + $5 supply fee)

Please pre-register.