Performance & Discussion: Body of Water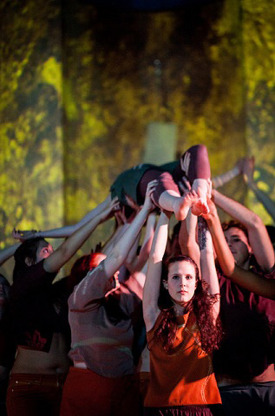 Part of the 10th Annual Iowa Water Conference. "Body of Water" uses video, music and dance to tell the story of water usage and quality within our Iowa's watersheds and communities. A facilitated dialogue will follow the 1-hour performance.
---
The performance-based project was conceived, choreographed and directed by Luther College dance professor Jane Hawley in conjunction with her Jodi Enos-Berlage, a biology professor at Luther who conducts water quality research. Originally presented in Decorah in 2015, the production highlights how small actions by individuals accumulate into a powerful force, producing an outcome that benefits all.

An exhibit of posters created by the Ames High School Bluestem Institute will precede the performance, 6:00-7:00pm, in the upper lobby of the auditorium. The Lexicon of Sustainability photo-mosaic posters define of water quality from a technical, social, and cultural perspective.

More information available online
Art of Water Event, part of the 10th Annual Iowa Water Conference.