Lecture: Where Is U.S. Foreign Policy Headed?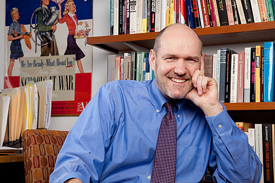 Stephen Walt is Belfer Professor of International Affairs at Harvard's Kennedy School of Government and a former academic dean. Phi Beta Kappa Lecture
---
He also taught at Princeton and the University of Chicago and has been a resident associate of the Carnegie Endowment for Peace and a guest scholar at the Brookings Institution. A fellow of the American Academy of Arts and Sciences, Walt is a contributing editor at Foreign Policy and co-chair of the editorial board of International Security. His books include The Origins of Alliances; Taming American Power: The Global Response to U.S. Primacy; and The Israel Lobby and U.S. Foreign Policy. He is currently writing a book about why U.S. foreign policy keeps failing.