Lecture: National Defense and International Security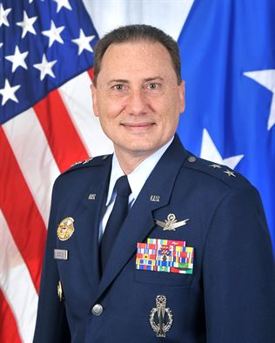 Maj. Gen. Clinton E. Crosier is Director of Operational Capability Requirements and Deputy Chief of Staff for Strategic Plans and Requirements for the U.S. Air Force at the Pentagon.
---
Part of the World Affairs Series

General Crosier also oversees the execution for the Capabilities Development Council and is responsible for shaping and finalizing capabilities based requirements documents for approval by the Joint Requirements Oversight Council. He directs and supervises the activities for more than 110 military and civilian employees in seven divisions and one named activity, including requirements officers and weapon systems experts along with professional, technical and clerical staffers.

General Crosier has a broad range of experience in Intercontinental Ballistic Missile and space operations, including a deployment to the Middle East as the U.S. Central Command, Director of Space Forces. He has served in staff assignments in the U.S. Senate, Secretary of the Air Force's Action Group, Headquarters U.S. Air Force Office of Legislative Liaison, Office of the Secretary of Defense, Headquarters Air Force Space Command and Air Force Global Strike Command. His operational commands include the 2nd Space Launch Squadron, Vandenberg Air Force Base, California; 50th Operations Group, Schriever AFB, Colorado and the 460th Space Wing, Buckley AFB, Colorado. Prior to his current assignment, General Crosier served as the Director, Plans and Policy, U.S. Strategic Command, Offutt AFB, Nebraska.