Intermediate Pottery: Lidded Pots and Enclosed Forms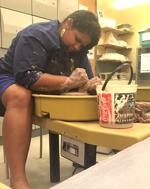 Take your basic throwing skills to the next level by learning to make lids 5 different ways. See appropriate lids and finishing for different shaped vessels, and learn how an enclosed form can be turned into a lidded pot, vase, bowl, and other forms.
---
Instructor Jonathan Castro is a full time ceramic artist living and working in New York City, and believes that objects in our lives should be thoughtfully designed and expertly crafted. He is an ISU Fine Arts alum and former Workspace instructor. Take this opportunity to improve your throwing skills with tips and tricks from our visiting artist.


ISU $35 ($25 tuition + $10 supply fee)
Public $45 ($35 tuition + $10 supply fee)

Monday and Wednesday, September 25 & 27 from 6:30-9pm

Please pre-register.