Lecture: Autism and Animals, Temple Grandin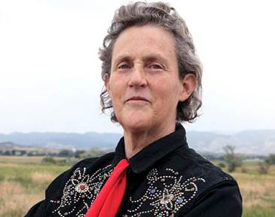 "The Design Process, Autism and Animals." Temple Grandin is a person with autism, and an expert on both autism and animal behavior. She is a professor of Animal Science at Colorado State University.
---
Temple Grandin has a successful career consulting on both livestock handling equipment design and animal welfare. HBO made an Emmy Award winning movie about her life starring Claire Danes, and she is the subject of the BBC documentary "The Woman Who Thinks Like a Cow."

The unique way Grandin's visual mind works and the connection between her autism and animal temperament is the subject of her book Thinking in Pictures. In Animals in Translation, she explores the connection between autism and animal behavior. Her latest book, The Autistic Brain: Thinking Across the Spectrum, addresses scientific advances in understanding autism.