Cyclone Cinema: Battle of the Sexes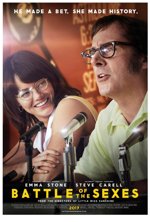 The Student Union Board presents Cyclone Cinema! Showings are FREE in Carver 101 at 7 and 10 p.m. every Thursday, Friday, Saturday, and Sunday. Hope to see you there!
---
Starring Emma Stone and Steve Carell, Battle of the Sexes is based on the true story of a tennis match between Billie Jean King and Bobby Riggs.