Metalsmithing Class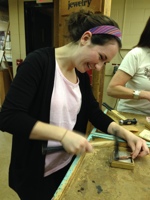 Begin your exploration of jewelry-making by learning techniques such as sawing, drilling, forming, chasing, annealing and riveting.
---
Students will complete one or two projects out of sterling silver and copper depending on complexity. Pendants, earrings and bangle bracelets are just a few of the possibilities. Some people read a book to escape, others pound metal!

Instructor: Terrie Hoefer

ISU $85 ($55 tuition + $30 supply fee)
Public $95 ($65 tuition + $30 supply fee)

Wednesdays beginning February 21, 6:30-9pm for 6 weeks (No class March 14)

Please pre-register.