Screen Printing Class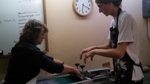 Learn an inexpensive way to create custom t-shirts. Using your own design, learn to make a screen with the photographic emulsion method.
---
Bring in your shirts and print away! This class is required in order to use our screen printing equipment.

Instructor: Reed Siems

ISU $70 ($40 tuition + $30 supply fee)
Public $80 ($50 tuition + $30 supply fee)

Thursdays beginning January 25, 7-9pm for 4 weeks

Please pre-register.