Vision Board Workshop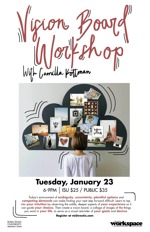 Create a vision board, a collage of images of the things you want in your life, to serve as a visual reminder of your goals and desires.
---
Today's environment of ambiguity, uncertainty, plentiful options and competing demands can make finding your next step forward difficult. Learn to tap into your intuition by observing the subtle, deeper aspects of your experience so it can guide your choices.

Instructor: Camilla Kottman

ISU $25 ($20 tuition + $5 supply fee)
Public $35 ($30 tuition + $5 supply fee)

Please pre-register.