Belly Dance Class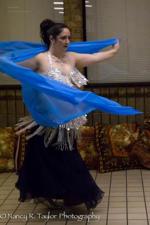 Ditch the gym and get your steps in with Shiara at Belly Dance!
---
This beautiful art form is great exercise, improves your posture and more importantly, tons of fun! Learn basic technique and short dance combinations that will help you de-stress and be ready to enjoy your time outside of work or class. All levels welcome - from beginners to those that want to dance with a group.

Instructor: Lisa Rich McKelvey (Shiara)

Meets Wednesdays for 7 weeks.

ISU $50
Public $60

Please pre-register.