Out and About: Veterinary Medicine campus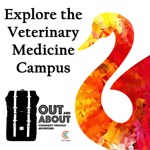 Join The Center for LGBTQIA+ Student Success as we explore the College of Veterinary Medicine campus! This visit is part of our Out and About program.
---
Out & About: Community Through Adventure brings together LGBTQIA+ students to build community while experiencing a campus adventure.

Have you missed out on the fascinating, historically rich, and technologically innovative Veterinary Medicine campus? Well, now is your chance to learn more! Get a behind-the-scenes tour covering the workings of the Vet Med campus' clinics, labs, people, art, and historical areas, even including a few rarely open to the public. Join us to learn more about our nation's first public veterinary school, and maybe get a chance to see some furry and feathered friends along the way!

Sign up here: https://center.dso.iastate.edu/programs/...munity/Out

Spots for this visit are available on a first come, first serve basis for the first 30 students who sign up.