LGBTQIA+ Community Dinner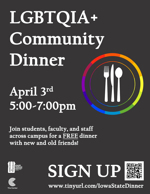 Celebrate Pride Week with dinner for lesbian, gay, bisexual, trans, queer, questioning, intersex, asexual, and ally community at Iowa State!
---
This dinner will take place in the The Joan Bice Underwood Tearoom, a beautiful restaurant/classroom run by Iowa State's Hospitality Management program. We'll enjoy a fine dining experience with a queer twist! There will be chances to mingle, meet someone new, and take time out to enjoy our community together.

This meal is free of charge for students, staff, and faculty who sign up; you bring your fabulous self and we'll take care of everything else! Spots are limited, RSVP today!

RSVP here: https://center.dso.iastate.edu/programs/...munity/Out

This dinner is part of the Out and About program in The Center for LGBTQIA+ Student Success.