Tiny House Pendant Class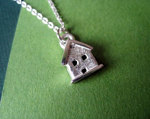 Learn to construct your own sweet little structure -- cabin, church, fairy house, birdhouse, doghouse, or other tiny architectural marvel -- using metal clay.
---
Personalize your creation with fun details. Your pendant will be kiln fired and the finished piece will be beautiful fine silver.

Instructor: Rhonda Scott

ISU $48 ($18 tuition + $30 supply fee)
Public $58 ($28 tuition + $30 supply fee)

Thursdays, June 21 from 6:30-9pm and June 28 from 6:30-7:30pm

Please pre-register.