Glass Beads Intensive Workshop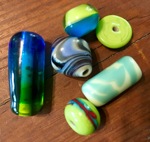 Learn to create colorful beads by heating and shaping glass with a torch - yes, we get to work with fire!
---
This fast-paced workshop will be packed with information about safety, equipment, and techniques for creating a variety of beads. Leave class with a stash of beads and the know-how to continue on your own. For very beginners or a great refresher for those who would like to brush up on their skills.

Instructor: Rhonda Scott

ISU $48 ($30 tuition + $18 supply fee)
Public $58 ($40 tuition + $18 supply fee)

Saturday, October 13 from 10am-4pm

Please pre-register.