Intermediate Glass Beads Workshop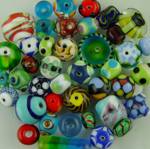 Learn to make fascinating beads that have the look of miniature glass paperweights.
---
Layers of glass will create depth -- we'll pull several techniques together to make these more complex beads. Create air bubbles and stripes inside the bead, and practice making and using different kinds of stringer and simple twisties to make stripes. Bonus: learn to make an encased flower. If you have taken a basic lampwork class (4 week class or one day intensive), you are ready to step up your game with encasing. Supply fee includes glass for class time only. Propane/MAPP is available for purchase if needed. Free week includes use of tools but no supplies.

Instructor: Rhonda Scott

ISU $23 ($15 tuition + $8 supply fee)
Public $33 ($25 tuition + $8 supply fee)

Wednesday, November 7 from 6-9pm

Please pre-register.