Mandala Drawing Workshop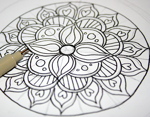 Learn how to break down the elements of mandalas and use repetition of shapes and lines to create a balanced sphere. Drawing mandalas can be meditative, and is a great way to relieve stress and clear your mind.
---
Mandalas are created with geometric shapes and curvilinear lines, and often incorporate ancient spiritual symbols that are significant in Hinduism and Buddhism.

This workshop is held in conjunction with visiting Tibetan Monks from the Drepung Loseling Monastery who will be creating a large mandala sand painting September 24-28 at the MU. The dul-tson-kyil-khor (sand mandala) will be made over a four day period using millions of grains of carefully-placed sand. Once complete, the mandala is deconstructed - a metaphor of the impermanence of life. A schedule the opening and closing ceremonies, open viewing times, and the Symbolism of the Sand Mandala lecture are at sub.iastate.edu, and sponsored by Student Union Board.

Instructor: Sara Merritt

ISU $20 ($14 tuition + $6 supply fee)
Public $30 ($24 tuition + $6 supply fee)

Tuesday, September 25 from 7-9:30pm

Please pre-register.