Intro to Hand Lettering Class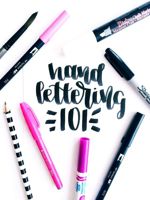 Learn the basics of letter forms and techniques using some of the most popular pens, markers, and watercolors.
---
We will practice a few lettering styles together, and you'll create your own unique alphabet. At the end of the class, use your alphabet to make a little wall art ready to frame. Keep four writing instruments to continue on your own. Beginners and lefties welcome!

Instructor: Kristin Erdman

ISU $43 ($28 tuition + $15 supply fee)
Public $53 ($38 tuition + $15 supply fee)

Tuesdays beginning October 2 from 5:30-7pm for 4 weeks

Please pre-register.