Silver Rings Class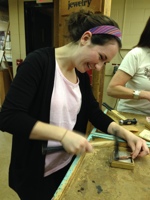 Create a personalized and embellished ring in sterling silver.
---
Saw, file and solder metal sheet to make a personalized ring that fits you to a T. Start with a band in copper to practice, and make your final in sterling silver. Embellish with stamps or texture, and learn how to polish to a high shine.

Instructor: Terrie Hoefer

ISU $67 ($42 tuition + $25 supply fee)
Public $77 ($52 tuition + $25 supply fee)

Wednesdays beginning October 10 from 6-9pm for 3 weeks

Please pre-register.