Acrylic Paint Pours Class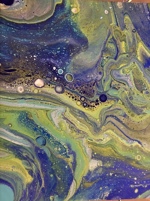 Have you been captivated by videos of paint pours? Discover how to make these colorful paintings by acrylic pouring.
---
Experiment with recipes, ingredients, and techniques. A mesmerizing process that is addictive once you start! Create two paintings each week, and since we hate to waste any art media, make a couple pendants using the leftover acrylic.

Instructor: Rhonda Scott

ISU $54 ($32 tuition + $22 supply fee)
Public $64 ($42 tuition + $22 supply fee)

Mondays beginning October 15 from 6:30-8:30pm for 3 weeks

Please pre-register.