Harvest Fest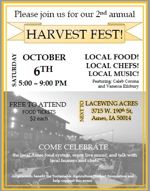 Come and enjoy the food sourced from the local food system of Ames, Iowa. Featuring local chefs serving creative and specialty dishes. Come celebrate with food, live music, Lacewing Acres farm tours, and farmer presentations!
---
Hello all!! The Sustainable Agriculture Student Association (SASA) is excited to announce an upcoming (and new) event called Harvest Fest, taking place on Friday, September 8th from 4:30 to 9pm. The event will be held outdoors in the area next to Lacewing Acres. Attendance, music, tours and presentations from local producers are free. Food tickets are $2.

**Please note - Cash only!!

All proceeds benefit the Sustainable Agriculture Student Association and help support Harvest Fest.

We hope to see you there!