Creating Green! Free Sustainable Wrapping at Art Mart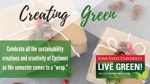 After shopping at the ArtMart (or for any previously-purchased gifts), get your presents wrapped FOR FREE as a part of the 10 Year Anniversary of Iowa State University's Live Green! Initiative!
---
Members of the Live Green! Team will be on hand, as a part of this year's Winterfest ArtMart event, ready to wrap with you!! Bring your presents (purchased at Art Mart or any gifts you have that need wrapping) and take advantage of "green" and sustainable wrapping service! We will have bows, ribbon, and various recycled paper and upcycled decorating options. Wrapping can be self-service or with help from volunteers!

Add some sustainable flair to your gifting this year!!