Paint Your Own Pottery: Elephant in the Room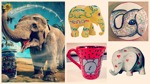 A symbol of strength, wisdom and luck, elephants are the top of many favorite animal lists. Paint figurines, banks, ring holders and mugs, or draw your own beautiful beast on any bisque you choose.
---
We will show you the basics of painting your piece and fire it within a week.

Studio fee is $4 for ISU and $5 for public to attend plus the cost of the bisque you select.

Walk in during open hours or drop in on Friday evenings between 4 & 8pm for theme nights. Open to all ages if accompanied by an adult.