Cyclone Cinema: Crazy Rich Asians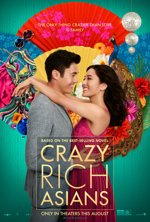 Crazy Rich Asians is a PG-13 comedy-drama rated 4.5 stars. Watch a complicated love story unfold between the extremely wealthy Nick Young and econ professor, Rachel Chu. Refreshments and snacks available at extra charge.
---
The Student Union Board presents Cyclone Cinema at 7 p.m. and 10 p.m. every Thursday, Friday, Saturday and Sunday.