Leave Your Trace: Footprint Casting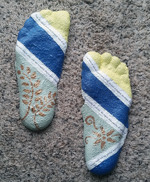 Drop in and be part of a collaborative art project exploring art and place with Rosie Manzo. Cast your footprints on Saturday, and stop back within the next week to add words and imagery that are a reflection of you. Footprints will be places along a local trail to create a community art installation. Open to all ages if accompanied by an adult. Drop in but give yourself an hour.
---
This workshop is part of a larger project which explores and combines the ideas of community art and place- (and trace-) making along trails in order to combat perceptions of risk. Using the Iowa State University College of Design community as a basis for collaboration and study, this project seeks to encourage public participation in an art project that will be pieced together to create a community art piece. The casted footprints made during the workshop will be placed strategically up to and along a trail adjacent to the College of Design in hopes of shedding light on trails as valuable and potentially underused resources if the perception of risk is allowed to overshadow the potential benefits of trail use.