Campaign Series: Presidential Candidate Eric Swalwell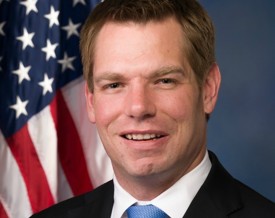 Congressman Eric Swalwell is serving his fourth term in the U.S. House of Representatives, representing California's North Silicon Valley 15th Congressional District. He was born in Iowa and spent his early years in Algona, where his father served as the police chief. His talk is part of the Campaign Series in 2019, providing the university community with opportunities to question candidates before the Iowa Caucuses.
---
Congressman Swalwell served as a county prosecutor and a city councilman before winning his House seat in 2012 by defeating a 40-year incumbent.

As founder and chairman emeritus of Future Forum, he has been the House Democrats' point person on outreach to millennials. He currently serves on the Judiciary and House Intelligence Committees and co-chairs the Democratic Steering and Policy Committee.

Statements about key issues, including health care, education, and gun violence prevention are available at EricSwalwell.com.