Rummage Rampage Sale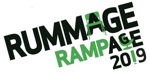 A community sale during the community's annual summer move-out/lease changeover (July 26-Aug. 3), designed to keep reusable items out of the waste stream and landfill. Most items are priced between $1 and $50. Proceeds benefit community nonprofit organizations providing volunteer hours during the event. Hosted by the City of Ames and ISU Office of Sustainability.
---
Because many leases in Ames terminate at the end of July, relocating ISU students and community members often discard items that may still be useable. During these weeks, the City of Ames Resource Recovery Plant (RRP) often sees an influx of couches, wooden furniture, clothing, and more as renters attempt to meet their move out requirements. At the same time, new students moving in are often in need of furniture and household essentials. Rummage RAMPage is a collaborative effort to pair unwanted items with others seeking low-cost options for furnishing a home.

The inaugural Rummage RAMPage was held in 2016, at the Ames Intermodal Facility parking ramp, 129 Hayward Ave. This first event far surpassed expectations by diverting 44,000 pounds of furniture and housewares out of the landfill and raising more than $5,000 for local non-profit agencies. The second year was even larger, diverting 77,520 pounds of furniture and housewares from the landfill and raising $14,000 for local non-profit agencies. In its third year, Rummage RAMPage increased proceeds by more than $4,000 and diverted an additional 25,000 pounds of materials when compared to results from 2017.

2019 Rummage Rampage
Item Drop-off ONLY
o Friday, July 26, noon - 6 p.m.
Sales and Drop-off
o Saturday, July 27, 8 a.m. - 6 p.m.
o Sunday, July 28, 10 a.m. - 6 p.m.
o Monday, July 29, noon - 6 p.m.
o Tuesday, July 30, noon - 6 p.m.
o Wednesday, July 31, noon - 6 p.m.
o Thursday, Aug. 1, noon - 6 p.m.
o Friday, Aug. 2, noon - 6 p.m.
Half-Price Sales (no drop-off)
o Saturday, Aug. 3, 8 a.m. - 2 p.m.

For more information on items accepted for donation, signing up to volunteer or our partnership with the ROAR program offering a drop-off opportunity for pets that are unable to be relocated and need a rehoming option, visit the Rummage Rampage website.