Art Nouveau Innovation: Open House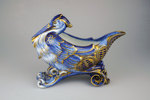 Visit Art Nouveau Innovation and speak with the exhibition's curators and collector.
---
You are invited to visit the exhibition Art Nouveau Innovation and have the opportunity to speak to Museum of Danish America Executive Director Tova Brandt and Associate Curator of Exhibitions Diya Nagaraj as well as collector Dr. Todd Reiser and University Museums' Associate Curator Adrienne Gennett. With limited audience during this timed entry event, there will be ample opportunity to engage directly with these four experts in the field and experience the beautiful porcelain in the exhibition.

The first two timed entries are reserved for members of the Museum of Danish America (Elk Horn, IA) and University Museums (4:30 and 5 p.m.) and the final two entries are open to the general public (5:30 and 6 p.m.). Pre-registration is required to reserve a space.