VIRTUAL Curator's Exploration: "Color Matters"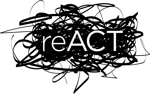 Enjoy a virtual exploration of the newest reACT exhibition "Color Matters" with guest curator Dr. Jonathan Sturm as he shares his thoughts on the concept, discusses highlights of the exhibition, and invites you to visit in person and reACT.
---
To get a link for this virtual event: register online, check the University Museums calendar event later, or subscribe to University Muesums on YouTube.

REGISTER ONLINE
Registration encouraged but not required.

Program made possible through the generous support of the Offices of the Vice President for Research and the Senior Vice President for the Division of Operations and Finance.