Campus Sustainability Month Celebration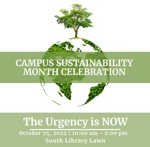 Hosted by the Office of Sustainability, an event of the Live Green! Initiative. Sustainability-minded student organizations, campus groups and community businesses will highlight their activities, initiatives and products. FREE bike tune-ups, hot cider, Crumble cookies and green-minded prizes!
---
Join the Office of Sustainability in support of ISU's Live Green! Initiative, and in celebration of all the sustainable achievements and initiatives on campus and in the Ames community.

Highlights include:

-Meeting student organizations and groups on campus as well as community groups and businesses off campus who are making a sustainable difference. Learn how to add some more green in your daily life through tips, ideas, connections and opportunities to get involved.

- Earning great green and sustainably-minded prizes.

- Enjoying: FREE refreshments including Crumbl cookies and hot cider and tea; FREE bike tune-ups from Recreation Services; and music from 88.5 KURE.

DON'T FORGET:

- Bring your own mug (or earn a reusable mug at the event) for free hot cider.

- Bring your bike for a free bike tune-up.

- Bring a non-perishable food donation to support The SHOP, ISU's campus food bank!!


Participating groups and businesses include:
Ames Campus Lions Club, Ames Repair Cafe, City of Ames, Climate Reality Campus Corps Iowa State, Culinary Science Club, Engineers for a Sustainable World, Environmental Science Club, Hindu Yuva, Iowa Wildlife Center, ISU Recycling Services, ISU Student Government Sustainability Committee, KURE 88.5, MFA Program in Creative Writing & Environment, Network Against Human Trafficking, Office of Sustainability/Live Green! Initiative, Recreation Services, Sustainable Ag Student Association, The EcoTheatre Lab, The Green Umbrella, Story County Conservation, Walk Bike Roll Ames,

For more information email Haylie Moore () or Haley Wegener () and visit the Facebook event page (https://www.facebook.com/events/s/campus...784986139/).