Watercolor Class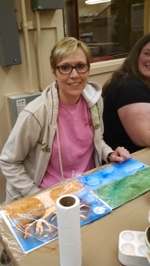 Watercolor is a powerful and technical medium in which one can achieve beautiful results with a relatively quick sketch, or brilliant finished work with the investment of more time and craft. Watercolor is easy to use and this class will teach a variety of techniques from realistic to abstract in fun exercises. Experiment with both traditional and liquid watercolors.
---
Meets on Tuesday for 5 weeks
Instructor: Molly Nagel
Pre-registration recommended
Suitable for the beginning painter or those with some experience wanting to learn more.