Intermediate Belly Dance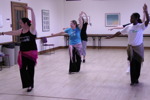 Continue your Belly Dance addiction with Shiara with A Three Pillars Delsarte based approach to Middle Eastern Belly Dance in the style of award winning performer Shiara. The focus this semester will be on steps, combinations, layers, personal expression and style. This is an intermediate level class. Walk-ins welcome!
---
Instructor: Lisa Rich McKelvey (Shiara)

Classes meet on Wednesdays. Purchase a dance punch card and attend as often as your schedule allows.