Workshop: Fundraising for Success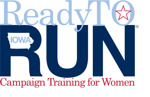 "Ready to Run Iowa" is nonpartisan, campaign training for women considering running for elective office in Iowa, preparing for appointive office, or seeking to be leaders in their communities. Registration is required.
---
This workshop provides an overview of campaign fundraising, including how to create a fundraising plan, host an event and use various communication channels. With advice and feedback from fundraising experts, participants will practice making the "ask" in a variety of campaign scenarios. A panel of former candidates and representatives of the Iowa Ethics and Campaign Disclosure Board will addresses planning, budgeting and reporting campaign finances.

Part of six interactive workshops offered by the Catt Center in its 2015 "Ready to Run" series. Each may be attended on its own or in conjunction with others in the series.

Register online.