Paint Your Own Pottery: Dinosaurs RAWR!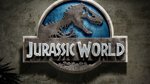 "Painting" bisque is a fun and relaxing activity that can be done solo or with a group of friends. In honor of Jurassic World, incorporate a terrestrial vertebrate into your design. Enter our drawing for 2 tickets to Jurassic World at Movies 12. Studio fee is $4 for ISU and $5 for public to attend plus the cost of the bisque you select.
---
Walk-ins welcome!
Painting pottery takes around 1 hour to finish, please arrive accordingly.