Curator's Tour of 40/40 +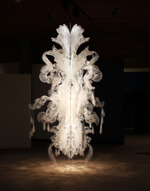 Join Assistant Curator Adrienne Gennett as she guides a tour through the exhibition 40/40 +. 40/40 + includes a selection from the original 40/40 exhibition along with new donations as University Museums continues to honor and commend the amazing Iowa artists and donors who have made the past 40 years possible.
---
40/40 was the 40th anniversary exhibition celebrating University Museums continued support of the Iowa Artists Collection through the donation of over 80 new objects to the permanent collection, all created by Iowa Artists. The exhibition was a great success and donations of art created by Iowa artists continued to be brought into the collection after the opening.