Jewelry Box Class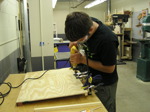 Choose one of several simple but elegant box designs and create a one-of-a-kind jewelry box with contrasting hardwoods.
---
Students will learn to follow a pattern and safely use wood shop tools including the table saw, drill press, sander and hand tools. Assemble your parts and learn about different finishes to personalize your woodworking project. Beginners are welcome.

Instructor: John Burright

Wednesdays beginning February 24, 6-9pm for 3 weeks.

ISU $65 ($45 tuition + $20 supply fee)
Public $75 ($55 tuition + $20 supply fee)

Please pre-register.