Local Food Festival: An Adventure in Eating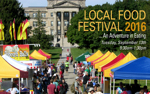 Celebrating local food with educational displays, food samples, local food recipes developed by ISU Dining chefs, and locally grown and produced items for sale by farmers, vendors and ISU student clubs.
---
Sponsored by Blue Bunny, Iowa Farm Bureau, ISU College of Agriculture and Life Sciences, ISU Department of Food Science and Human Nutrition, ISU Dining, ISU Extension and Outreach, ISU SNAP-Ed, the Leopold Center for Sustainable Agriculture, the Office of Sustainability and Value Added-Ag.

Participating organizations and vendors include: Ames Main Street Farmers Market, Anderson Erickson, Burgies, City of Ames Water Department, Cherry Glen Farm, Dairy Science Club, Culinary Science Club, Food at First, Food Science Club, Food Corps, Food Product Development Team, Healthiest Ames, Horticulture Club, HyVee, ISU Dining, ISU Horticulture Farm, ISU SNAP-Ed, ISU Student Government, ISU Student Health, ISU Extension Outreach Local Foods Team, ISU Outdoor Recreation Services, Live Green! Initiative/Office of Sustainability, Lucky George Farm, Mustard Seed Farm, Plant a Row, Plate of the Union, Red Granite Farm, Salt and Pretzel, Sustainable Agriculture Student Association, The SHOP, Young & Professionals Local Food, Walnut Creek Farm, and Wheatsfield.