College Creek cleanup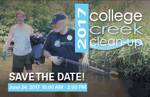 Small groups of volunteers will walk through designated sections of the creek along the banks and pick up trash. No time limit is required; all help is appreciated. Volunteers should register in advance and check in at the Forker Building parking lot.
---
In recognition of National Rivers Month, Iowa State's Live Green! initiative and Keep Iowa State Beautiful are teaming up with Facilities Planning and Management to give College Creek a good cleaning.

Volunteers should dress for the weather and wear closed-toe shoes. Supplies (bug repellent, sunscreen, gloves and bags and trash grabbers) will be provided; however volunteers are welcome to bring their own supplies as well. Refreshments will be provided for all volunteers.

Registration is requested to ensure adequate event supplies - https://vcstory.galaxydigital.com/need/d..._id=259593.

Volunteers can check in starting at 9:30am in the Forker Building Parking Lot (Lot #50A). Volunteers can also arrive at any time between 10am and 2pm to volunteer.

View highlights from past events: https://www.youtube.com/watch?v=7Ai4vvEtlg4

Special shout out to this year's sponsors and their generosity - providing lunch and door prizes for our volunteers: Arcadia Cafe, Chocolaterie Stam, Cookies Etc., Fareway, Fighting Burrito, Jax Outdoor Gear, Little Woods, Morning Bell, Random Goods, Wheatsfield and Worldly Goods.