Dedication: Kemin Food Science Laboratory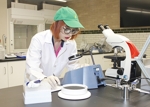 A newly renovated food science teaching laboratory, made possible by a charitable contribution from Mary A. Kelleher Nelson and R.W. Nelson and Kemin Industries, will be dedicated with a ribbon cutting. Tours of the new lab will follow the ceremony.
---
The Food Sciences Building is located at 536 Farm House Lane.